We couldn't do it without you
There are all kinds of ways to make sure Wintergrass is a bright spot at the end of winter. Below you'll find links to volunteer, donate, sponsor, advertise or exhibit at
the festival along with direct contact to the right person to make your support
and involvement a reality.
Wintergrass is looking for someone just like you – friendly, loves music, loves to work alongside good people, wants a free ticket to Wintergrass and a t-shirt…  Work twelve hours for Wintergrass and that's all yours.
Volunteer sign-up form coming soon!
From one-time donations to planned giving, and a whole lot of options in-between, it's easy to transform your love of Wintergrass into tangible sustenance. Wintergrass and all related programs are productions of Acoustic Sound, a 501c3 not-for-profit organization. Please contact  Jen Kunitsugu for details. If you'd like to cut to the chase and make a donation, please click the button below:
Wintergrass Sponsors are part of the family. Sponsors have a presence at the festival and establish long-term relationships with festival goers. Sponsorship can be as simple as stage and program acknowledgment, Exhibit space at the festival all weekend long, or all the above and a bunch of things in-between. No matter your preference we're happy to work with you to create a sponsor package that works for you. Please contact Sponsor Manager Janet Brightly for more details.
You want eyeballs. We've got 'em. Both in-person attendees and live-stream viewers will have access to our festival program, not just during festival dates but both before and after the event itself. Advertising is easy and affordable with Wintergrass. Please click below for our current ad rate/spec sheet. You'll find prices, precise specifications, deadlines and how to submit your ad here.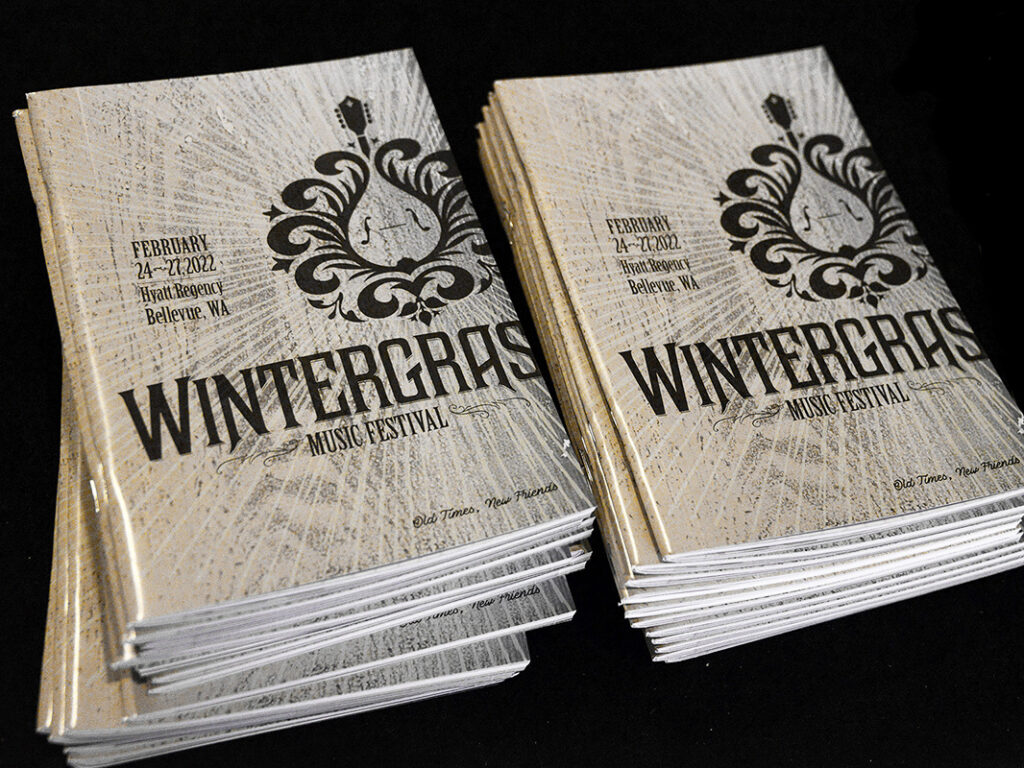 Wintergrass is an indoor festival in a fancy hotel with lots of beautiful space for you to show your wares and interact with festival goers. We love luthiers and give them space for people to try out your instruments. But we also love people who make beautiful things like jewelry, clothing, soaps and lotions and other things that make people happy. We keep things simple. There are large spaces and smaller spaces. There are two prices: $650 or $450. If you are interested in exhibiting at Wintergrass please contact Exhibit Manager Bruce Adolph.
PO BOX 2024, MILTON, WA 98354
Wintergrass is a production of Acoustic Sound, a 501(c)3 not-for-profit organization. EIN: 91-2103544
all photos copyright Maria Camillo