Dive deep into the topics you love
Eleven master musicians offering intensive workshops on a wide range of instruments and topics. Half-day intensives are three hours of instruction each. Morning classes are from 9am – noon. Afternoon classes are from 1-4pm. Space is limited.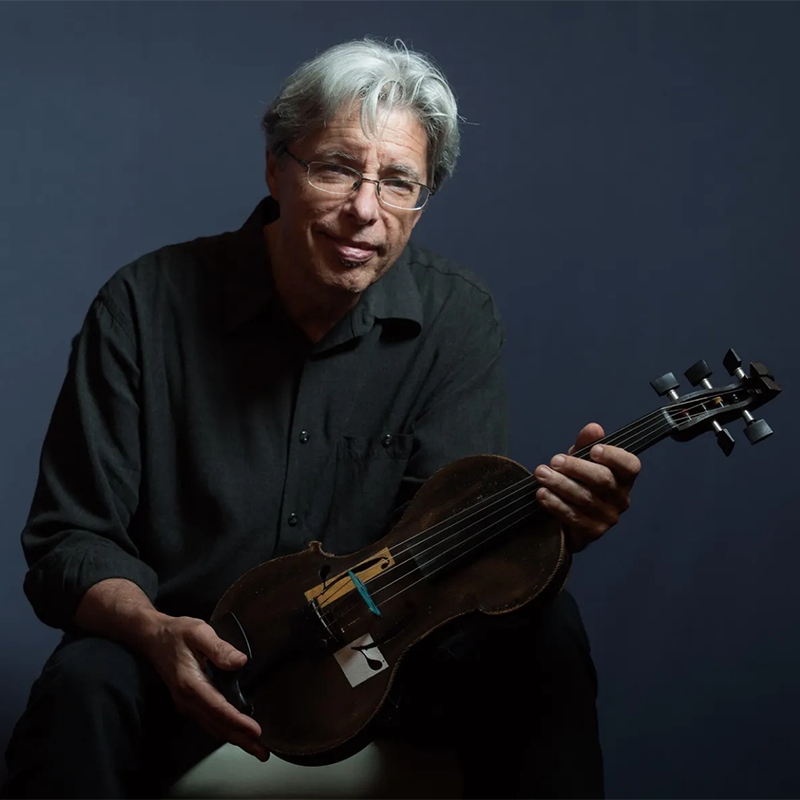 Darol Anger: Fiddle
9am – noon
Bluegrass & Beyond – We'll examine tonal concepts, phrasing, rhythm techniques, the blues melodic environment, look at the Dominant 7th Cycle, and analyze some standard tunes to freshen, polish and possibly ruin them. Participants can expect to come away with new or improved techniques and insights that will lend to increased understanding, ease, and fun when playing Bluegrass fiddle in either an accompanying or a solo role. Knowledge of these ideas and techniques will greatly increase fiddlers' musical confidence and spontaneity in a Bluegrass jam or band.
Skill Level: Intermediate to Advanced
Grant Gordy: All instruments
9am – noon
Opening Our Ears: the Principles and Skills of Being an Improviser – By taking a close look at the basics of rhythm, harmony and melody that form the foundation of everything from bluegrass to the blues to jazz, and learning to play with those basic elements, we'll learn to sharpen our ears and expand our possibilities for dealing with music making in real time. Participants should be ready to engage with rhythm by strumming or clapping or even walking in place, be willing to think about chords and melodies in new ways, be ready to ask questions and engage in discussion, and have an open mind.
Skill Level: Intermediate to Advanced, but open to all.
JOE K WALSH: MANDOLIN
9AM – NOON
Dawg Style Mandolin – Students should expect to learn a few Grisman tunes, and can expect to also learn some melodic and improvisational concepts that he has built into these tunes. Students will learn how to find and apply some of the sounds that make Dawg sound like Dawg, and will head home with new ideas of how to use them on any other song or tune.
Skill Level: Not for beginners. Students should be comfortable playing standard fiddle tunes, and have  knowledge of basic music theory concepts. 
BRUCE MOLSKY: OLD-TIME FIDDLE
9AM – NOON
In Bruce's Old Time Fiddle Intensive, we'll take apart several good old time tunes to see what makes them tick and to improve our ability to learn by ear. We'll start each tune with short phrases of melody (and lots of repetition,) then add the "good stuff" and build them up (specific ways to bow the phrases and drive home the rhythm; trills, grace notes, other ornaments; using double stops to move the chords along and create percussion under the melodies).
Participants can go as far as they want, or keep it simple. To help us stay true to the old styles and hear the inspiration, we'll listen to some short clips of recordings of some classic fiddlers. We'll see how much of the 300-some years of old time fiddling history we can cram into 3 hours!
Skill Level: Intermediate to Advanced 
MISSY RAINES: BASS
9AM – NOON
Missy Raines Bass Intensive – In this workshop we will start with a refresher of some basic fundamentals such as left hand and right hand techniques.  We'll touch on the physicality of the bass and how we conquer it.  We'll also delve into the concepts of timing, note choices, and bass lines.  Where do we place the notes?  Which notes to play?  And, how do we build those walking lines?  What about adding singing to the mix?  As primary timekeeper in a bluegrass band, the bass player has a lot riding on their shoulders. We'll explore how to keep all these plates spinning in the air. Participants can expect to come away with new or improved techniques, new or improved tools to build their musical vocabulary, and a fresh look at how to listen differently when jamming which can greatly increase the joy of playing music with others.
Skill Level: Intermediate to Advanced
ED SNODDERLY: SONGWRITING
9AM – NOON
Coming Across The Mountain With A Song – with Ed Snodderly (The Brother Boys).
I hope to get the students fired up about what they know and in turn help them with what might be important to them to writing their next song. We'll be focusing on the creative world of songwriting, as well as the art of rewriting and exploring ideas in old and new forms for making melody and creating chord progressions that'll help one find his/ her own voice in song. Looking to have each student walk out with a new song or at least a good direction for a new one and or a new idea/angle for later down the road. The lyrics of Ed Snodderly's "Diamond Stream" are featured on the walls in the Country Music Hall of Fame in Nashville, TN.
Skill Level: all levels and ages, those already experimenting with creating and writing.
CATHY FINK: GUITAR
9AM – NOON
Maybelle Carter Iconic Guitar Style – Maybelle Carter changed country music and guitar playing when she recorded her iconic lead and rhythm style, known as the Carter Scratch. We'll start with the methodology behind Maybelle's style, then dig into three of her best known guitar breaks: Wildwood Flower, Will The Circle Be Unbroken and Fifty Miles of Elbow Room.  Students will:
– Understand how the Carter Scratch works in keys of C and G
– Learn right and left hand techniques for Maybelle's music
– Learn three of Maybelle's guitar breaks.
Skill Level: Participants should solidly be able to change chords and play rhythm in the keys of C (C-F-G) and G (G-C-D). Both thumbstyle and flatpicking accessible. 
MARCY MARXER: UKULELE
9AM – NOON
UKULELE JUMPSTART – For beginning ukulele players or guitar (and other instrument) players picking up uke and transferring their skills, we'll start at the beginning with holding, tuning the uke, learn some chords, strums, songs and have fun, fun, fun. Plus, each attendee will get a free month of Marcy's online ukulele lessons at www.pegheadnation.com.Students will:
– Learn to hold and tune the ukulele
– Learn a vocabulary of chords and strums
– Learn to play a handful of two and three chord songs, which lead to hundreds of other songs
– Learn to read ukulele chord chart
– Discuss your next steps for Ukulele Fun!
Skill Level: Novice to Beginner
ELI WEST: FLATPICK GUITAR
1PM – 4PM
Flatpicking a Melody with Confidence – We will pick a tune, listen to a few different versions, talk about context and history,  to then ultimately learn the melody together to then arrange in our own fashion. In an afternoon, we will establish the process of finding a melody on guitar and feeling confident delivering it.
Skill Level: Intermediate to Advanced
MIKE BLOCK – ALL INSTRUMENTS
1PM – 4PM
Play it by Ear – How to learn new music and create your own arrangements without ever using sheet music. Students will learn a few fun tunes by ear from multiple styles, and create basic arrangements in a small ensemble setting. All instruments welcome.
Skill Level: Intermediate to Advanced 
JAKE BLOUNT: CLAWHAMMER BANJO
1PM – 4PM
A Comprehensive Introduction to Clawhammer Banjo – Participants in this workshop will learn the fundamentals of clawhammer banjo technique, and walk away with at least one tune in their pocket. We'll cover the "bum-ditty," drop thumbing, hammer-ons, pull-offs, and the other tools you'll need to get your feet under you in this style. Clawhammer places extreme emphasis on right-hand technique; consequently, this workshop will likely be suitable for both total beginners and bluegrass banjoists looking to learn a new style. 
PO BOX 2024, MILTON, WA 98354
Wintergrass is a production of Acoustic Sound, a 501(c)3 not-for-profit organization. EIN: 91-2103544
all photos copyright Maria Camillo